We have been hearing some rumors concerning the Gathering this year and wanted to take this moment to clarify things. The first of which is concerning Gathering tickets. Some are under the impression that they will be able to buy tickets at the front gate ... this is totally false. All tickets for the Gathering are completely sold out and there will be no more tickets available for purchase online or down at the Crystal Forest. We ask that all those without tickets do not show up, as you will be turned away, without exception. We have beefed up security to ensure that those without tickets do not get in, as this would cause serious problems for the Juggalos that paid to get in. We have security guards with hunting dogs patrolling the entire perimeter of the park connected with radios to the state police. Anyone found trying to sneak into the park grounds will be arrested for trespassing and taken to jail. Those found inside the park without a ticket will be taken directly to the Security Tent where a phone will be available for them to arrange transportation home (for those not driving). Make sure you have your ticket with you at all time, no exceptions will be made. You will need your ticket to get on the shuttle buses, to enter the Crystal Forest, to enter the Parking Lot, and to partake in all of the activities and events on the park grounds.
Also for those of you driving to this year's Gathering keep in mind that roadblocks will be in effect to check non-locals for Gathering tickets on all roads leading to the Crystal Forest about a mile out. If even one person in your car does not have a ticket then the whole car will be turned away and not allowed to pass. Also from what we have been told, be warned of police pulling over anyone speeding in about a 10 mile radius from the Crystal Forest's location. We have been told that the police lay speed traps whenever an event is happening down there and they have been known to search cars when they do pull someone over.
Unfortunately these drastic measures are absolutely necessary to assure that the Gathering goes down this year. It is sold to capacity, and to go beyond that jeopardizes the entire event, and there is no way in hell we are going to let the Juggalos who paid to get in get the bone because of some gate crashers.
If you are a Juggalo with tickets to the Gathering and know someone thinking about trying to gate crash, do us all a favor and let them know it is a bad mistake.
Now that all of that shit is out of the way, we don't know about y'all, but we're getting chills over here, 'cuz the Gathering is just over a week away! And boy o boy, is it gonna be the bomb diggity -- aaw boy, believe that shit! Psychopathic is hyped and ready to freak it level 10+ hard. Get ready for four days to remember!!
That's right ninja, this year's Gathering of the Juggalos is being held at a devastatingly huge 250 acre campground located in the forested rock ledges of Eastern Ohio!!! You can't even conceive how big this place is till your there. The park is breathtakingly beautiful, hosting two fishing lakes and the huge Lotus Lake, which allows swimming, snorkeling and canoeing. The main benefits being that the Gathering is now 5 days and 4 nights long with all Juggalos camped out together! Not only that but its now a 24-hour event with parties running all night long as well as seminars, autograph signings, movies and much more. Stop playin' crinkle nuts! This is going to be the bomb flavor of all time!
Now that your wig is orbiting the earth like a satellite; we will move on to try to begin to explain the entire flavor that is about to take place:
Hotels
All of the hotels in the area are now booked. You might have a shot at getting a room if you don't have one, but it'll be very expensive. If you still need a place to stay, you're probably best off asking around on the Gathering Message Board, or in the worst case just staying in the Hospitality Area.

Parking Lot
A huge outdoor parking lot has been obtained that is located on a neighboring property, which will allow for thousands of parked cars. This "Free" parking lot will be heavily guarded 24-hours a day making it a secured area to keep your goods in your car.

Carpooling
We ask that all Juggalos try to car pool down to this event, as it will make things infinitely easier to deal with. The less cars driving around and clogging up camping space, the better it will be for everyone. Four to five ninjas per car is great but RV's or vans loaded with ninjas are better. We ask all Juggalos show love to one another by offering rides to others when possible. Please, let's all due our part to help out with this.

Bathrooms
The Shangri-La Park comes complete with six bathroom facilities and adding to that we will bring in more then enough porta-potties to make everyone happy that they don't have to use the old wipe-your-ass-with-leaves-tactic.

Showers
Plenty of potable showers will be set up right on the grounds for you to wash that stank ass in a private stall and room. Just don't forget your soap and towels.

Water
We are bringing in a couple of fat water trucks that everyone may tap into, to acquire all the free water they like (unlike Woodstock's cheap ass our water is free.) Cups will be provided, but you may want to think about bringing canteens or containers to hold water for cooking or other needs.

Convience Store
This store located right on the property should provide all your basic needs from disposable cameras, batteries, medicine, snacks, cigarettes, Faygo, flashlights, hygiene items, and yes even clown make-up. This one-stop store has most everything you might have forgotten or need so theirs no real reason to leave, allowing you more time to experience all that's going on.

Food Area
Several Concession areas will be set up serving all your hot and tasty desires. We will have at least three vendors (possibly more) with each providing there own style of foods. Here you will find such delicious foods as pizza, salads, hamburgers, hotdogs, chicken, ribs, corn dogs, french fries, popcorn, rice, beans, and even desert items. Because it's an all ages event, alcohol will not be served. This area will also have plenty of tents with picnic tables for you to sit down and relax in the shade, while you enjoy your meal.

Volunteer Tent
We are seeking volunteers to help us run this year's Gathering, as it is a truly tremendous undertaking. There are positions for park cleaning, security or fire watch to name a few. Those who help out will be given an honorable mention on our website and have a unique opportunity to see how much is really involved in running the Gathering. To volunteer, simply come to this tent at the Gathering and sing up. It's that easy!

Metal Amulets
Don't worry we will have only one type of amulet this year, that is your ticket into the Shangri-La Park to experience the entire flavor. To avoid an overflow to the park a ring of security guards utilizing trained hunting dogs, will be placed around the outskirts of the campgrounds. Police will also have roadblocks set up a mile away from the Park checking non-locals for tickets. If even one person in a car dose not have a ticket, the whole car will be turned away. Also everyone will need a ticket to enter the parking lot and roving security will be calling in tow trucks to tow cars illegally parked on the road, the State Park (which is across the street) or on other people's property. Once inside the park your amulet will be continually checked at each event and those without will be escorted off the grounds. These precautions are totally necessary in order for this event to happen. We cannot risk an overflow of Juggalos as this would result in series complications; therefore we are doing everything in our power to stop people from trying to sneak in. If you do not have a ticket then you will not get in, its that simple.

Entertainment

Below you will find a list of all the ideas we are putting together for the Gathering of the Juggalos this year followed by a brief description for each. Keep in mind that this is a work in progress and the events listed below are subject to change. We feel however that this is a very accurate reflection on the flavor that's coming this year.

Shows - Below is the tentative line up that's 75% locked down and is whom we are trying to get for this year's Gathering. These concerts should be over the top with the stage set up next to the lake providing a backdrop of serene beauty.

Friday
Jumpsteady
Dope
Esham
Dark Lotus
Saturday
Blaze
Zug Izland
Vanilla Ice
Twiztid
Sunday
Killah Priest
Kottonmouth Kings
ABK
Bushwick Bill
Insane Clown Posse
Juggalo Championshit Wrestling - All the hardcore wrestling legends return for yet more bloodthirsty episodes of Juggalo Championshit Wrestling. Come see your favorites do the impossible as the rip flesh and crush bone. Special guest this year include Sabu, Jeff Jaritt, Mad Man Pondo and many more.
Mad Man Pondo's Wrestling School - Learn the most ruthless wrestling moves every imagined as this twisted individual demonstrates his moves to the applaud crowd. Spectators are encouraged to volunteer to be victims, ah...I mean aids...for Pondo to do some of his most famous moves on.
Seminars - Every Psychopathic artist will be hosting a seminar where you will be able to talk directly to them one on one asking any questions you like. There will also be a few other very interesting seminars that you don't want to miss including the now infamous Mystery Seminar.
Juggalo Wall of Fame - Tag up this wall with a marker to immortalize yourself this year as being a part of the Gathering 2003. Also check out the walls from the last three years, proudly set up on display.
Merchandise Tents - The largest selection of Psychopathic merchandise can always be found at the Gathering and this year is no exception. Come check out all the bomb ass new items from every artist on the label. Also don't forget to check out all the highlights of this year, including ICP' Autobiography "Behind the Paint", Wizard of the Hood Story CD, JCW volume 3, and Juggalettes Gone Wicked just to name a few. Keep posted to juggalogathering.com for updates.
Professional Face and Body Paint - These professional airbrush artists will paint you up in any scheme you desire weather it be a famous artist or otherwise. Choose from such creative possibilities as an alien with all green skin to a leopard man, complete with spots. If you wish for a more artistic approach, you may choose a colorful pattern that once applied to your face and body will give you an exotic and powerful look.
Therapeutic Massage - Back once again by popular demand is this benefit, which offers a full back and shoulder massage that will rejuvenate your muscles and ease all tension. Female and male masseuses will be on hand to use their hands to carry you away to another dimension of bliss.
Promotional Tent - Leave all your promotional flavor here or stop by to find out what's currently brewing in the Juggalo underground.
MC Contest - This incredibly hot contest allows rappers to compete against others on stage to see which group will be judged the best. The winning group this year will then be aloud to perform at three separate Psychopathic concerts in the future. All travel and other expenses will be paid for and the group may also put together their show tape right at Psychopathic's Lotus Pod studios!
The Murder Mayhem Show - For this game show four male and female couples will compete against each other to see who can earn the most points by being the best at performing a series of hysterical physical challenges. At the end of each round whoever did the worst will have to under go some sort of embarrassing or disgusting torture or face elimination from the game. Various prizes will be given out along the way but the grand prize winners will receive the ultimate prize of a all expense paid weekend vacation to non other then Europe to visit the Psychopathic European Headquarters!!! Stop playin' titty winks, this is the bomb y'all!
Lingerie Contest - Can we ever get enough of scantily clad Juggalettes? I think not. For this contest lovely and shapely beauties will take the stage as they try and win the crowd over. The most stacked and sexy Juggalette will be determined by applause from the crowd.
Remote Control Car Races - Here six players at a time will race high speed professional remote control cars on a giant obstacle ridden race course with plenty of ramps, tunnels, bottle necks, drops and curves to make it more then entertaining. Contestants are encouraged to ram or sideswipe the competition in order to come out on top and claim the prize.
Miss Juggalette Pageant - Who will be crowned the Juggalette Queen 2003? You have to come to this intense competition to find out. Many lovely ladies will compete in three intense rounds (Personality, Talent and Swimsuit) to see who will walk away with the honor of being deemed the hottest Juggalette of the year.
Win A Date Contest - Juggalettes may compete in this random game of chance to see who among them will win a date with any Psychopathic star they choose. That's right an opportunity to chill with the man of your choice for a night of fast food, herbs, and lust...ahhh! young love is such a sweet thing.
Female Mud Wrestling - Participates are encouraged to wear as little clothing as possible to avoid getting them dirty. Enuff said.
Tattoo Contest - Show off your tats as the judges decide who has the best tattoos at the Gathering this year and awards the prize to the one who has the biggest and most artistically appealing tattoos.
Basketball Team Challenge - 2 vs. 2 basketball games played on a full court with the winning team earning prizes and advancing to play other teams to win even bigger prizes. Get your team together, player!
Volley Ball - Two teams of six will square off with the winning team earning prizes. Everyone will be put into teams as they arrive.
The Neden Game - This contest (not unlike the dating game) has contestants competing in a question/answering game to try to win the admiration of their desire. Everyday there will be two rounds, the first is were five female contestants try to win a date with a Psychopathic employee who will then act as their personal backstage escort for the rest of the day. The second round will consist of five male contestants who are trying to win a lap dance from a certified and stacked stripper. The winner will then receive the lap dance right on stage for all to enjoy!!!
Costume Contest - Come dressed to impress because the winner receives a fat prize for their creativity. Make sure you stop by if you don't have a costume yourself as there are plenty of creative fashions to enjoy.
Autographs - All the Psychopathic artists as well as other famous personalities at the Gathering will hold Autograph signings. Thus ensuring your chance for a one on one encounter with these demented individuals.
Paint Ball - This was suppose to happen last year but was logistically deemed impossible. Now however since we are outdoors in the woods, it is very possible. This is perhaps the most devastating new event at the Gathering this year and everyone (and we mean everyone) has to play this at least once. 20 players at a time will battle it out in a thick, forested area of the park providing plenty of cover for tactics. Players then will need to use stealth, cunning and quick thinking if they want to survive as the competition is sure to be fierce. Official referees will be on hand to ensure fair play.
Sorry, but you may not bring your own paint guns, but may bring your own mask and protective gear.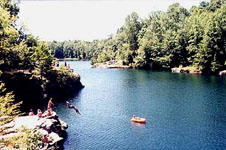 Canoeing - Bring your own canoe and go out for a relaxing cruise on the Lotus Lake.
Big Money Rustlas Auditions - Yes the movie is finally in the first stages of production and this late summer we are planning to begin filming. Here is your chance to be apart of this highly anticipated movie by having a chance to get a role in it. We will be holding auditions for a part in the movie and we are guaranteeing at least two ninjas from these auditions, will have a part in the film. Also the scene that each person will be acting out is taken right from the movie script itself. This is a once in a life time opportunity to become a star.
Swimming - Enjoy a cool and refreshing dip in the Lotus Lake as theirs no better way to escape the rays of the summer days. Or just chill out on the natural sandy beech and take a quick rest. Lifeguards will be on duty to ensure everyone's safety.
Jousting - This big inflatable game involves contestants battling it out with big padded sticks to see who can knock their opponent off their pedestal first.
Obstacle Course - This gigantic (60' long by 15'tall) inflatable obstacle course is a wonder to behold, let alone play on. It has been designed to challenge your stamina as competitors race one another to see who can be the first to complete this fun but grueling course.
Bouncy Boxing - A big inflatable game where two fighter enter an inflatable ring, don big padded gloves and pound each other until the loser breaks down like a little punk ass and cries.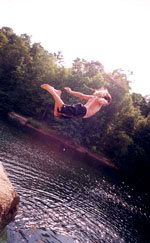 Cliff Jumping - Located on the south side of the Lotus Lake is a 20' cliff face known as Dead Mans Drop where anyone crazy enough can jump off and free fall to the water below. A lifeguard at the top of the cliff and in a boat at the bottom will ensure everyone's safety at all times.
Fishing - With two separate fishing lakes located right on the grounds anyone interested can get in some serious fishing tactics. Just make sure to bring your own gear and get ready to cook some fresh fish slowly over an open fire for some very tasty vittles.
Psychopathic Auction - Some of the rarest and one of a kind items straight from the Psychopathic archives. You will be amazed at the high quality of some of these items and the rarity and karmic power they will bestow upon their owner. All those who successfully bid on an item will then have a roll off to see who among them will win %25 of all the money that was made at the auction. Another %25 of the money will be donated to the International Rett Syndrome Association.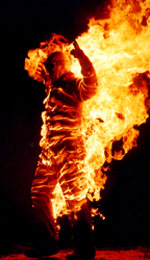 Burning Man Ghost - Fifteen years ago a fisher was killed as his boat was hit by lightning during an electrical storm, that ignited the gas tank in the small boat's engine. He immediately caught on fire and burning to death his body fell into the lake never to be seen again. Now according to urban legend on July 19th every year at precisely midnight, if you look toward the island in the middle of the lake you will see his ghostly apparition burning a bright red for several minutes before he falls once again back into his watery grave. He is known locally as the Burning Man Ghost.
Snorkeling - Plenty of snorkeling gear will be on hand for ninjas to explore the watery depths of the Lotus Lake. If you have never experienced this before we highly recommend it. It is an aquatic adventure that you are likely never to forget.
Scuba Diving - If you are a certified scuba diver then bring your gear for all the underwater exploration you like, including the cabin cruiser that is currently resting on the lakes bottom.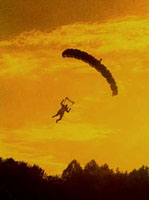 Sky Divers - Periodically sky divers will fall from the sky as they throw free merchandise to any lucky enough to be below them. When and where they will strike is unknown but they are reported to like landing on the beach and in the lake.
Late Night Parties - On Thursday, Friday and Saturday night we will be hosting official Psychopathic parities that will run from midnight to the morning light on each night. Come and chill around the giant bonfire as a live DJ spins music, videos play on a big screen and laser lights shoot off in all directions. Tiki torches and picnic tables will be placed all around the area to create a good ambiance. The different parities being hosted are as follows:
Thursday - Juggalo Reunion
"Awwh SNAP, it's good to see you again!" This party is about catching up with all your Juggalo homies from all over the planet who have gathered together to celebrate all things Juggalo. Catch up with old buddies, finally meet that Internet love you've had for months now, throw your rap to hotties ... it's all about having a good time!

Friday - Tribal Drum Party
Embrace the wild side at this powerful spiritual party! Everyone can dance wildly around bonfires, drinking in the power of the music and the night, moving to the rhythmic pounding of the relentless tribal drums. Give into the music and go with the flow at this mondo-hype party!

Saturday - Masquerade Party
Paint your face, wear a mask, don a cloak, dress up as a sponge ... whatever you do, don't come as yourself. It's a Masquerade Party, and that means everyone will be in in costume, so you should too! It can be a lot of fun to walk around as someone else for a few hours, especially at a party with your fellow Juggalos!
Outdoor Movie Theatre - All night long movies and videos will be played on a giant outdoor screen so ninjas can relax and peep the flavor. Plenty of chairs and tables will be available or just lie out on the grass the choice is yours. We will be showing a variety of Juggalo inspired movies including the ultra rare collection of Psychopathic's own Homemade movies.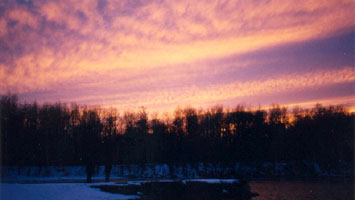 Faygo Armageddon - Massive amounts of Faygo blasted into the crowd to leave everyone wet and wild. The explosions of liquid pleasure will reach new heights, as the chaos reaches a climatic conclusion, baptizing everyone in the diamond rain of the Gathering 2003.
---
Gathering of the Juggalos Message Board
Yes, now there is a place for Juggalos online to collaborate, organize, plan, plot, scheme, debate, decide, and discuss all manners of all tactics regarding this year's Gathering of the Juggalos 2003! This is THE online place to get together and truly plan out your Gathering experience with other Juggalos! What are you waiting for?! Sign up today!
Click here for The Gathering of the Juggalos 2003 Message Board
Please note that this message board is for discussion of the Gathering of the Juggalos. Give praise, give criticism, say what you want, but keep it polite and respectful. Leave feuds and hatred at the door. We reserve the right to ban anyone who is being an all-out hater or menace to others on the board.
---
Gathering of the Juggalos Merchandise List
So you've got your cash burning a hole in your pocket, and you're wondering what gear there'll be at the Gathering? Here's your answer.
Click here for The Gathering of the Juggalos 2003 Merchandise List
---
Jumpsteady Interview
The man behind the Gathering, Jumpsteady, has gone over all of the questions and concerns you have sent him, and thrown together this ridiculously-throughout, extensive, question-and-answer session to put all worries to rest. There's some PHAT news in here, Juggalos, so read it right now and get schooled!
Click here to read Jumpsteady's answers to your questions
---
That's it, chilli-nuts! See you in July!